Beauty is a concern for humans every time.
Right from when one wakes up in the morning to adjust his hair till he goes to bed washing his face. Being beautiful is far beyond the stereotypical point of one making himself appear good. It's that charisma,it's that attitude,it's that glam, it's that glow and it's that fashion statement one carries to make himself absolutely beautiful! It takes a brilliant human to understand this but more than that it takes a legend to possess this purest form of beauty.
Herein comes the profession of modelling. Modelling according to common stereotypes is nothing beyond showing off your beauty ( which is natural and not hard earned) for money. In India, modelling means drinking, smoking, partying, showing off body and all those things which has no sort of connectivity to this profession of skills.
Every person who is tall or fair or has good hair doesn't become a model. It's takes a true beauty Spartan to become a true model.  And today, we in opul team are very much excited to break the stereotype,turn the war over, swipe the dirt clean and prove to the world the face of fashion and all those amazing things related to it. We were excited to have a small pep talk with one such talented,emerging model about his career. Dominic Mendes, you sure did ignite a light which we will make sure never goes off.
 Modelling as a career needs a huge kickstart. When and how did you start modelling?
" I spent 20 years of my life in Vishakhpatnam. When I decided I had to work to save my family, I planned to move into Bangalore or Hyderabad and never thought of chennai as a place to move in. But, reality stroke and I had to move to chennai for my work. Eventually,I fell in love with this place that I got my brother and sister to stay with me here. It's been 7 years in this beautiful city since then. In the beginning I couldn't start modelling as I had commitments to get my sister married. Once her marriage was over and I sent her to The United States I started working out for my modelling profession. After 3 months I became fit and started searching for photographers for filing a portfolio.
I wanted to do something big and thats when I met Kunal Daswani. Not only kunal helped me with a wonderful portfolio but also forwarded my pictures to well known casting directors. I will never forget the favor that Kunal has done for me. When I was eagerly waiting for opportunities Karun Raman gave a break in the fashion industry. Karun has been my mentor and I learned a lot. By god's grace now I'm one of the identified models and I wish to become a super model and one day an actor.", He says with so much passion in his face reminiscing his life as a model.
Friends always have an impact in a human's life. They either support or mock one's growth. Friends know your actual transformation and how much you suffered for it. How supportive were your friends in your career?
He laughs as he starts " I still work for a private company as the Quality Lead. And all these long I have always had friends who were supportive. Right from the beginning when I had a passion to become a model I showed them photos and shows relating to modelling and all that they said was that I was better than those experienced models. In that way they have always been there for me. Now they have transformed from my friends to my followers. No more do they greet me with a hi they greet me with compliments about my looks and about my shows. I had problems only with the senior make models when I entered the industry.
Before modelling, I worked for Ascendas (a private company) where they conducted regular modelling competitions. I eve won Mr.Ascendas 2013 title. I got an opportunity to meet The judge who judged my competition after I got into modelling. I was very excited to work. But all this excitement was shut down when that judge who is a top model told me that modelling was a time waste and it wasn't useful. I was totally discouraged but my excitements won over. I told him no matter what I'll stay in this profession and strive for a win. These discouragements made me challenge against them. And, here I am in a good position. Now, I'm recognised by my face and I have got into the luxury of being choosy about my work".
What is that specific moment in your life which lit the spark in you to become a model?
"I have another face, I'm a dancer. When I was in my 10th grade I used to participate in a reality show in Gemini t.v. For the recoding of this I have travelled all the way to Anna Poorna studio in Hyderabad. Our dance group was called the vijay entertainers. Earlier I have come to Chennai to work, that was the time Raghava Lawrence's style movie was released. After the movie became a success we had a dance competition in which we participated as a group and we won. After this it became such that I was seen on the television every Saturday and Sunday and people started recognising me on streets. So, I got used to the taste of fame when I was in 10th grade. And for the fashion part, whenever I used to go to Hyderabad I used to see the models over there and it was jaw dropping and I aspired to become like them. I used to read a lot of articles about models who turned into actors and watch this inspirational show called 'GladRacks' from which I got a lot of tips. In the beginning I was very very skinny. And when I came to Chennai, the Chennai water made me muscular". He says and laughs out loud.
" I learnt everything on my own. In one of the dance shows in which was performing, had fashion shows too and once when some models were missing the event organiser made me do the ramp show called 'Gladrags model hunt' . And that was the first ramp which paved my way into this career and this made me see the other side of me".
Being a model in India and especially in the south requires a lot of effort. Did your parents go against your dreams when you proposed it to them?
"As a dancer my parents always supported me. I started dancing in my 6th grade and when I was in 7th I won Mr.Vishakaptanam. All this was possible only because my dad took me to all the competitions and supported me continuously. Unfortunately, my parents passed away after my graduation. But, had they lived, they would have totally supported me, not because I chose modelling but because I chose something which I love the most. My brother and sister are very proud of me and they promote me ", He says with a proud glee on his face.
Do you believe in luck or do you believe in talent alone?
"I do believe in luck to an extent. Even tough luck is not my priority I do believe in it. One must always to know how to project and maintain oneself in this industry.", He says.
" I might have given my pictures to 9 people but there will be a 10th person who will come to know about me and might involve me in a big project and that according to me is luck",he says.
"In this industry one must know how to take care of himself. The industry has become very difficult these days. Only skinny fitting and skim fitting models are shining. Designers have become so particular about models. There are models who are rejected in the last moment because they don't fit into their dress. So, look young and groom yourself", he says.
"I go to parties of the same kind every weekend. My friends ask me if I don't get bored. The reality is I do get bored seeing the same people but it helps me socialise and get me more contact. Once I get bored and stop going to these parties the industry will forget my face.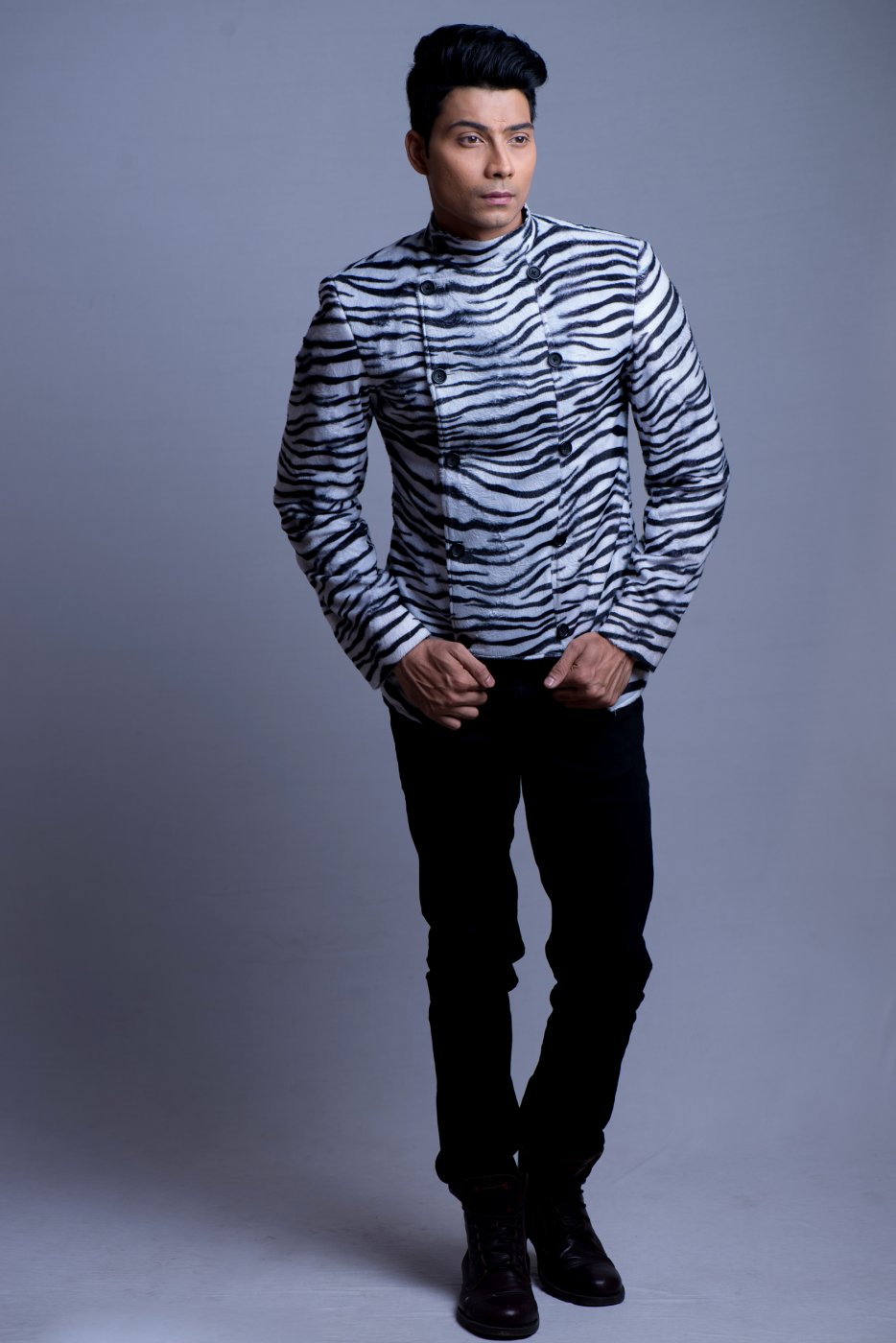 Apart from your fashion career, what are your interests?
"I'm a foodie and I love to eat. I can have thrice the amount of food that a normal person can have. I love to have junk food and roadside food. But, by being a model I survive in boiled chicken and boiled vegetables. I follow this diet 80% of the time and cheat it 20%. My biggest source of entertainment is watching movies. I watch about 3 movies every week. My source of relaxation is partying. The best party space is Blend and 365."What will you do when your fans approach you?
"I thank them and I'll be friendly. I talk and interact with them because one day even I used to follow people and expect the same from them. I made sure even if I had one or two fans I will be very helpful to them.", he says very understandingly.Has there ever been a day when you were sick and you had to skip an event?
"Fortunately, no. But there was a time when I was sick and I participated and got selected in the top 10 even though I didn't win. Only if the designers tell me to take rest because I won't look good if I ramp when sick, ill not ramp.
" I follow this diet 80% of the time and cheat it 20%. My biggest source of entertainment is watching movies. I watch about 3 movies every week. My source of relaxation is partying. The best party space is Blend and 365″
How do you manage your job and modelling?
"I have most of my shoots in the weekend. I have a cool boss and I manage it well with him."Marriage plans?
"I don't know, when the right time comes I'll get married." he says laughing.Being a model requires being stylish and properly attired every time be it on show or off show. So, how do you manage it?
"I always am stylish and properly dressed. Even when I go to a tea shop to drink tea, I go fully attired. My mom always said told me as a kid to be presentable wherever I go. I wasn't a model that time nor a dancer but that advice was stuck to my head and I still follow it. I consider myself a model every time, not only when I'm doing these shows. So, I do spend a lot of money to keep myself properly dressed always. My favourite brand is Zara."What is your favourite attire or clothing gadget?
"Clothes, shoes and watches are my favourite. I am very choosy. When I go to phoenix mall I come out only after 5 hrs with a pair of jeans and a tee-shirt."What kind of life would you like to have?
"I would like to have a celebrity life. After retirement I would like to be remembered as a person, as a model and for who I am." He says and ends in style.We, team Opul, thank Dominic for spending his time with us and having this chat and we wish him all the very best in all his future endeavours
Correspondent – Jaya Roshini
Make up Artist – Giri Babu
Studio Partner — Jumbos, Chennai
Photographer —Prashun Prashanth
Fashion Designer – Anant Kumar
No part of this publication may be reproduced, distributed, or transmitted in any form or by any means, without the prior written permission of the publisher, except in the case of brief quotations embodied in critical reviews and certain other non commercial uses permitted by copyright law. For permission requests, write to us: 
opulmagazine@gmail.com